Virtual Special Issues
Power Play: How Educators Articulated their Role in the Museum. 1973-2014
This Virtual Special Issue of the Journal of Museum Education (JME) seeks to uncover debates around the value and role of museum education as documented in Journal issues between 1972 and today. The articles collected investigate a specific issue in our history, namely how educators argued for power and responsibility in the museum, with a special focus on knowledge of the public vs. knowledge about objects. The articles highlight how museum educators used JME to argue for their relevance and importance in the changing museum landscape, and serve as an important reminder that in order to understand where we are, we must look back at where we came from.
Visitor Studies
Museum Education Roundtable is pleased to offer in partnership with the Visitor Studies Association complimentary online access to Visitor Studies.
Anthologies
The Museum Education Roundtable has published three anthologies of articles published in the Journal of Museum Education and its predecessor, Roundtable Reports.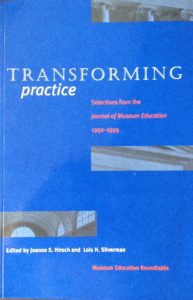 TRANSFORMING PRACTICE: SELECTIONS FROM THE JOURNAL OF MUSEUM EDUCATION
1992-1999 (2000). Edited by Joanne S. Hirsch and Lois H. Silverman.
---
PATTERNS IN PRACTICE: SELECTIONS FROM THE JOURNAL OF MUSEUM EDUCATION
(1992). Edited by Susan K. Nichols.
---
MUSEUM EDUCATION ANTHOLOGY: PERSPECTIVES ON INFORMAL LEARNING, A DECADE OF ROUNDTABLE REPORTS, 1973-1983
Edited by by Susan K. Nichols, Mary Alexander, and Ken Yellis.